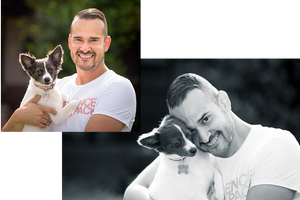 Edil Hernandez // Owner
Edil was born and raised in Mayaguez, Puerto Rico, the youngest of three brothers. He started his career in New York at IBM, completing his MBA from Rensselaer Polytechnic Institute.
In 2007 he moved to Orlando, FL to become part of the Senior Leadership team at Walt Disney World and is currently an executive at accesso, the leading queuing and ticketing technology solution provider for the leisure industry.
Edil has also launched a successful DJ career that allows him to play at many clubs in Orlando, as well as become a prevalent DJ in different markets, headlining events in Atlanta, San Francisco, Provincetown, Montreal, Washington D.C. amongst others.
Inspired by the experience of growing up as a chubby adolescent and recognizing the importance often placed upon physical appearance, he launched Wear My Confidence in August of 2018 - a self-empowering line of t-shirts. He hopes that you embrace his line because CONFIDENCE is sexy, cool and comes from within.
stay informed
Be the first to hear about and wear our new products.